"

The Venom battleship has extraordinary firepower. No enemy caught in the Venom's field of fire will survive for very long.

"



 

— In-Game Description 
Venom Battleship

Information

Faction
Miner Rebellion
Hull Tier
2
Weapon Slots
5
Armor Slots
2
Shield Slots
1
Special Slots
2
Health
360
Unladen Mass
750 t
Max Mass
5010 t
Max Cargo
196,000 t
Firing Arc
90+90 deg
Combat Speed
280 m/s
Turning Speed
8 deg/s
Strafe Speed
60 m/s
Sector Speed
240 AU/h
Modifiers
125% Range

Research

Requirements
Rancor Battleshio,
Ship Lab VIII,
Ship Factory VIII
Time
14h 37m 10s
Helium-3
5,543,160
Antimatter
0

Build

Time
7h 19m 10s
Helium-3
1,839,960
Antimatter
0

Repair

Time
6m
Venom Battleship MKII

Information

Weapon Slots
5
Armor Slots
2
Shield Slots
1
Special Slots
2
Resistance Slots
1 (+1)
Health
360
Unladen Mass
750t
Max Mass
5261 t (+5%)
Max Cargo
245,000 (+20%)
Firing Arc
90+90 deg
Combat Speed
280 m/s
Turning Speed
8 deg/s
Strafe Speed
60 m/s
Sector Speed
240 AU/h
Modifiers
+10% Cruiser Damage
+125% Range
-5% Weapon Mass
+5% Shield Bypass


Unlocking

Requirements
Workshop IV,
Venom Battleship,
Rancor Battleship Mk II
Research Time
7h 34m 56s
Mineral Ore
2,766,250

Craft

Craft Time
4h 54m 24s
Mineral Ore
1,009,025
Pattern
x1 Venom Battleship MKII
Cores
x2 Battleship T2
Ship Parts
x10 Venom Battleship Parts
Faction Armaments
x32 Rebel Armaments
Venom Battleship MKIII

Information

Weapon Slots
5
Armor Slots
2
Shield Slots
1
Special Slots
2
Resistance Slots
1
Health
360
Unladen Mass
750t
Max Mass
5511 t (+5%)
Max Cargo
294,000 (+17%)
Firing Arc
90+90 deg
Combat Speed
280 m/s
Turning Speed
8 deg/s
Strafe Speed
60 m/s
Sector Speed
240 AU/h
Modifiers
+23% Cruiser Damage
+125% Range
-10% Weapon Mass
+10% Shield Bypass

Unlocking

Requirements
Venom Battleship Mk II
Research Time
15h 09m 53s
Mineral Ore
5,532,500

Craft

Craft Time
9h 48m 48s
Mineral Ore
2,018,050
Pattern
x1 Venom Battleship MKIII
Cores
x2 Battleship T2
Ship Parts
x30 Venom Battleship Parts
Faction Armaments
x40 Rebel Armaments
General
The Venom Battleship is a low level, tier two Miner Rebellion hull. It is the second battleship available for the player to research.
The Venom battleship is quite powerful and is entirely capable of fighting against stronger NPC Targets. It is a very popular ship among low and mid level players, featuring large amount of space for a variety of weapons and utilities.
Strategy
Venom battleships are versatile and very powerful for a tier II class ship. It is commonly used in combat against VEGA fleets, but it also has good performance in low to mid level fleet combat. With a correct fit, they can even take on Level 50+ fleets and win.
Advantages:
Venom battleships have a high maximum mass when compared its predecessor, the Rancor battleship. It can equip Thrusters, weapons with good DPS, as well as high level weapon modifiers.
The extra mass granted on Venom battleships gives it excellent potential to destroy higher level VEGA fleets. With advanced long range weapons such as Vector torpedoes, or Gladius drivers along with Fusion thrusters III and stasis weapons like NET torpedoes or Arrestor beams, it can certainly eliminate and destroy VEGA cargo fleets up to level 50, as well as a good portion of level 60 ISC fleet.
In addition, Venom battleships can be upgraded to MK III, granting even more mass and bonus damage to cruisers.
While Venom battleships can see limited effectiveness in high level combat, they simply don't have enough room for weapons, armor and weapon modifiers to compete with the higher level battleships. They are however, strong ships to use in mid level combat between level 35 - 45.
It is very easy to collect resources and materials needed to upgrade Venom battleships to MK III for mid - high level players.
Disadvantages:
Players who are building Venom battleships may be seriously lacking access to most effective and ideal weapons to equip on them, greatly hindering Venom battleships from performing their peak potential.
Weapons such as ECHO rays, Polaron rays, Aurora rays, Vector torpedoes, Gladius drivers as well as weapon boosters like focused optics which are highly desirable on Venom battleships may be out of player's reach early on.
Some players may not have Fusion thrusters III and/or a Midgard carrier, both of which enhance a Venom's ability to attack from maximum range and avoid damage. A prevalent strategy when dealing with any attacking fleet in PvE and PvP, especially the high level ones.
This results in Venom battleships being equipped sub optimally for combat against VEGAs.
Player's should be mindful that the Venom battleship with no engine equipment may be lacking in rotation rate, making it easy for agile ships to slip into their blind spots like the front and rear, avoiding their guns and attacking them, but this should at most be a worry on PvP, due to how slow most PvE ships are.
SETUP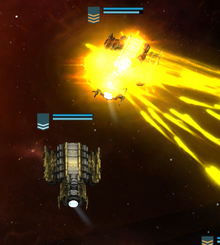 Generally, fleet vs fleet Venom battleships are equipped with Hydra Missiles or Thermal Beams with Shockwave IV or Spectral V shields, although the latter is more common. Polaron ray Venom Battleships with Fusion thrusters III and focused optics V are capable of out-ranging and being faster then most Rancor battleships, being able to take out entire fleets with just 1 ship.
Different configurations of Venom Battleships have different strengths and weaknesses. For example, Hydra missiles are better suited for destroying frigates and on auto fleets, while Thermal Beams do greater damage to single targets. Polaron Ray Venom Battleships can kite slower battleships with ease. 
Keep in mind, Venom Battleships are only moderately durable and will be destroyed easily by other ships. They are especially vulnerable to higher level ships.
Mid level players sometimes avoid equipping any sort of armor or shields on their Venom battleships, only weapons and thrusters. That way, when destroyed, they can be quickly repaired. Their high firepower and long range ensures they can usually do more damage to enemy fleets than they can take, these fleet setups are somewhat common but weak to squadrons.
Venom battleships are also solid ships used to fight against high level VEGA cargo fleets. Venom battleships with any sort of accurate, long range weapon, more than 4500 metres range before range bonus applied, such as Gladius drivers, Vector torpedoes and Polaron ray with focused optics with at least one stasis weapon like NET torpedo can cripple VEGA ship's speed as they charge in and destroy them before they get in range. You must have Fusion thrusters III, an agility field would be very advantageous.
Trivia
Back when the game was first released, the Venom was the most advanced ship players could obtain.
Building Venom battleships used to consume a large amount of mineral ore. 
An enhanced variant of the Venom battleship was once available in the market but has since been removed. It had improved mass, armor and agility. 
Gallery
Ad blocker interference detected!
Wikia is a free-to-use site that makes money from advertising. We have a modified experience for viewers using ad blockers

Wikia is not accessible if you've made further modifications. Remove the custom ad blocker rule(s) and the page will load as expected.