Scheduled for revamp some time soon.
Overview
Edit
Gameplay
Edit
Synopsis
Edit
Development
Edit
Community
Edit
Reception
Edit
Vega Conflict is a free to play Massive Multiplayer Online Real-Time Strategy game, on Facebook  here and on Steam as of 2016 after Unity no longer supported Kixeye.com.It is made by Kixeye, and is a fun game to play, as you "stake your claim, customize your fleet, and wage epic war in space". Vega Conflict is very similar to Battle Pirates, except the setting is in space.
Take command of your own destiny, and battle against The VEGA Federation and other rogue miners by taking control over valuable resources, build customized war ships, and raid neighboring enemy bases to seize more resources and strengthen your base.
Construct over 50 different war ships, and customize them with special armor and other unique weapons. Manage fleets, and launch them into orbit to loot other player bases and take down lucrative enemy cargo ships. Unlock new ship hulls, along with researching new weapons and defenses. Engage in real-time, synchronous PvP and NPC combat against live players around the world. Join in or form your own alliances with other players in your sector. Explore and conquer a massive 24/7, persistent universe. Compete in monthly in-game for exclusive prizes.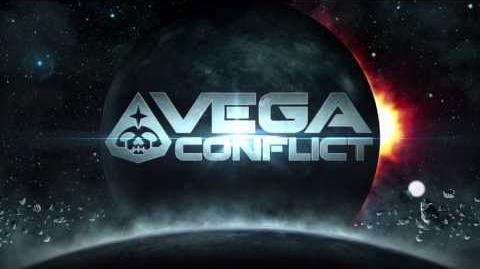 Developed by Kixeye - formerly Casual Collective . Kixeye was co-founded by David Scott in 2007 and is based in San Francisco, California.  Kixeye has created many titles, some others being War Commander ,Backyard Monsters, Battle Pirates, Desktop Defender and TOME: Immortal Arena
Ad blocker interference detected!
Wikia is a free-to-use site that makes money from advertising. We have a modified experience for viewers using ad blockers

Wikia is not accessible if you've made further modifications. Remove the custom ad blocker rule(s) and the page will load as expected.