"

The Valhalla Carrier has superior range and unique fleet support abilities, making it the centerpiece of any fleet design. It generates an ion field that allows allied ships to deal more damage to enemy shields.

"



 

— In-Game Description 
General
"

Claim victory on the battlefield with the Valhalla Carrier, the rebel's counter to the latest Vsec Technology.

"



 

— Event Store 
The Valhalla carrier is an mid level, tier three Miner Rebellion carrier. It was first available in the event Arms Race. It was designed by Larus as a rebel counter to the Ragnarok carrier, using his obtained data from Martial Law.
Although inferior in comparison to the tier four and five carriers, they are still occasionally seen, although this used to be a rare occurrence due to the Valhalla blueprint being much rarer than the other blueprints.
Like all carriers, they are slow and possess no weapons, but launch squadrons to attack enemy ships from an enormous range. The squadrons can be destroyed by regular weapons.
They were much less common to find compared to the other carriers due to the release rarity of its blueprint, but due to an event in November 2016, it became much more common than before.
Strategy and Setup
Advantages:
Like all carriers, it has massive damage output and range with its squadrons, as well as providing a unique support field.
Another shared trait with other carriers is that even if the carrier is destroyed, any squadrons still active will continue to attack their current targets until they run out of fuel, are destroyed, or eliminate their target.
The Valhalla carrier provides the ion field, which provides a 20% shield damage bonus to all ships within the field, making it a very powerful asset when your opponent uses Metaphase shield III.
Another use for the Valhalla carrier is to counter fleets that can be repaired instantly, as their poor shielding and armor renders them an easy kill for a carrier with its great range.
While less powerful than the Freyja carrier, it is also cheaper, and remains a carrier - a powerful asset to any fleet. The Valhalla's lower base health allows it to be repaired more rapidly and at a lower cost.
Disadvantages:
Despite its impressive capabilities in comparison to other ships in its tier, the Valhalla carrier is extremely sluggish, large, and easy to destroy with concentrated fire. On top of this, it is a rapidly outdated carrier, with many new and superior carriers released. Despite this, it is recommended that players construct several of them as they feature very short build times in comparison to the more advanced ones.
Frigates, cutters, cruisers, and even battleships can catch up to a fleeing Valhalla. It also cannot dodge most incoming fire due to its slow speed and large size.
If a Valhalla carrier is alone, it is easily destroyed by just about any fleet that is not a typical instant repair fleet or a fleet of destroyers. Because of this, escorts are a necessity when engaging in FvF combat. Battleships tend to be the go-to escort ships, but most any vessel can suffice. This is extremely important when facing an enemy carrier, due to the fact that just one squadron attack run from an enemy carrier can potentially annihilate or seriously damage the Valhalla carrier. This is especially true if the carrier's escorts abandon it to pursue oncoming enemy ships. Additionally, if enemy ships close in on the carrier's escorts, the escorting ships will prioritize enemy ships rather than the squadrons.
Squadrons naturally are easy to destroy if they receive concentrated fire, especially by explosive weapons such as the SICO missile and hydra missile, and energy weapons such as the Aurora ray and ECHO ray.
Compared to it's generally superior cousin, the Ragnarok carrier, it is much less used due to lacking the universal agility field, a field which is commonly used to kite slower fleets that either do not have a carrier or use a carrier with a different support field. Valhalla carriers are not commonly seen in FvF because their support field is less versatile in comparison to Ragnarok carriers.
It is also inferior to its support field counterpart, the Freyja carrier. It inherits the exact same ion field as the Valhalla carrier, as well as extra mass for more powerful squadrons and stronger armor. The Freyja carrier has twice the health of the Valhalla. These factors make the Freyja carrier an all-round upgrade to the Valhalla carrier, and it should be used instead of the Valhalla if available.
Setup
Fleet vs. Fleet
The recommended setups are Spectral shield V, Shockwave shield V or Metaphase shield III, with Bomber squadrons and Fusion thruster III, armor is entirely optional.
Valhalla carriers, like all carriers, tend to be targeted by the enemy over other targets.
Spectral shields will help to counteract the typical threat opposed by cutters, while the Shockwave shield helps mitigate damage dealt by the commonly used Bomber squadrons.
Metaphase shield is a very powerful option if you have it available, due to blocking out damage from all 3 weapon types, and having superior protection compared to both Shockwave and Deflector shields.
Bomber squadrons should be the go-to squadron, however, if you do not own it, Fighter squadrons and Interceptor squadrons can suffice as well.
Fusion thrusters are absolutely necessary, as they provide not only potent forward momentum, but also the necessary rotation speed for the Valhalla to turn around and fly away from the enemy fleet to put some distance between them.
Due to carriers typically having high health, equipping armor is generally not required, and this keeps the repair time low. If you are unsure, equipping the lightest and most efficient armor available to you can make the Valhalla more durable without buffing the repair time too much.
Basing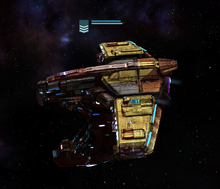 Blast shield III or Repulsor shield III, with Interceptor squadrons or Bomber squadrons and Fusion thruster III is recommended.
Typically, recharging shields are beneficial on a carrier when basing, due to the fact that the carrier will rarely come under much fire from its maximum range of engagement
Interceptor squadrons can be ideal for base incursions due to their superior range, allowing the carrier to out-range all base energy and explosive turrets, as well as many projectile turrets. The cost of this is lower firepower and lower speed, making it difficult to do much damage with the squadrons alone. It is quite effective at rimming a base.
You can also use Bomber squadrons if you intend to use the Valhalla carrier more aggressively. The extra firepower, armor and speed will help you annihilate modules quickly. Additionally, the bomber squadron outranges the popular Storm driver by 100m, allowing the carrier to engage without being targeted directly.
The Valhalla carrier shows its true colors when used in a base incursion at mid levels. It's ion field allows its escorts to drop module shields much faster then normal, making it easier to take out turrets using the Metaphase field.
Usage By Vega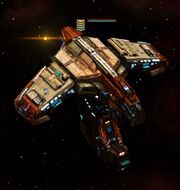 The Valhalla carrier is only seen during a supply run.
When attacking a rebel supply run fleet, an MK V Valhalla Carrier accompanies the fleet, its shield and squadron type changes based on the supply run type.
They are generally quite fragile and can be easily destroyed, they are, however, quite renown for being able to annihilate instant fleets quickly in the higher levels, requiring players to use armored warships to destroy them and reap the guaranteed strongbox rewards they have to offer.
The supply run Valhalla carrier is one of the few instances where an MK V Rebellion hull is seen in combat.
Valhalla carriers from supply runs have longer range than standard carriers, about 11,000m scramble range, which is 2,000m higher then the interceptor squadron. This trait is shared by all carriers found in supply run fleets.
Trivia
The Valhalla carrier is the first flagship-class ship to be released for player use.
The Valhalla carrier was the first obtainable carrier in the game.
The support field has been calculated to give a 20% damage per second boost to shields for all surrounding ships for all weapons.
This is the first ship Larus designed for rebel usage.
Gallery