"

The Revelation cruiser is one of the workhorses of the miner rebellion. Heavily armed and with a wide field of fire.

"



 

— In-Game Description 
General
The Revelation Cruiser is a mid level, tier three Miner Rebellion hull. It is the last cruiser available for research to players.
They are solid, versatile warships and highly common among mid level players especially suited for medium to close range combat. They are most effective when equipped when upgraded to MK IV with excellent equipment and weapons and sent to fight ships it is tailored for.
Strategy
Advantages:
The Revelation cruiser is a strong, versatile ship. It is versatile, low build time and when using ideal equipment, weapons and tactics, it can be an effective warship for fighting against high level fleets of cutters and other cruisers, making it extremely popular in the high level range.
It is also the first ship available for research have two shield slots, granting it vastly superior durability compared to its predecessor, the Exodus Cruiser.
It's also an common ship seen in base attacks because of a good balance between speed, firepower and endurance. Arming the Revelation Cruiser with Thermal Beam or Creeper Torpedo can potentially destroy a base's bridge, and the blitz attack is very easy to manage and thus, it's very common.
It has a comparatively far shorter build time, more advanced cruisers may take twice to thrice as long to build.
MK IV version of Revelation cruisers are far more powerful than standard MK I versions.
Disadvantages:
While the Revelation cruiser is a strong ship and can crush Tier II ships with ease. It is by far from the strongest ship. It can be very easily overpowered unless they are upgraded to MK IV.
Even upgraded to MK IV, revelations are effective but can be very easily be overpowered and annihilated by the more agile and powerful ships such MK V Dread battleship and MK V Zeal battleships. Fully equipped and upgraded Revelations can struggle to survive against a fleet of MK V Python cutters, which are ships that Revelations have a significant damage bonus against.
A fleet of MK IV+ battleships using ECHO rays, Vector torpedoes, Gladius drivers, Aurora rays or practically any long range weapon, with a single NET torpedo or Arrestor beam and Fusion thrusters can easily out-range, outmaneuver and cripple cruisers and destroy them while they're helpless shockingly fast with their bonus damage. Charging in only leads to being directly hit by its weapons and the NET torpedo, leading to the their demise more rapidly.
MK V destroyers are even more lethal and usually destroy a fleet of cruisers within seconds. Charging is suicide.
SETUP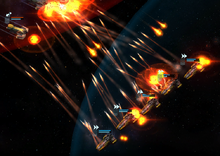 Common weapons in fleet vs fleet combat are SICO missiles, Disruptor rays, Aurora rays, Thermal beams, Impulse beams, Gatling ray and Hydra missiles. Reverb ray is a powerful option for the ship if you have it.
Rear thrusters IV+ or fusion thrusters can be useful, the extra speed can be useful escaping battleships but players may choose not to use any engine equipment for extra armor and weapons.
Base attacks: Metaphase shield III x2 is ideal, otherwise choose a level V shield that is ideal for mitigating damage at close range for the base you are attacking. If the base has many SICO missile turrets, use Shockwave shield V x2, if the base has many Thermal beam turrets, use Spectral shield V x2. Reliable weapons are Thermal beams or Impulse beams.
Creeper torpedoes can be highly effective for bases that are dense with many combat modules placed adjacent to many others.
Base decoys: Equip Deflector shields V x2 or Metaphase shields III x2 if you have them. Maximum armor possible. Creeper torpedoes can be useful for destroying incoming squadrons. Remember, this base decoy setup is only used for protecting destroyers, while these tank damages. Blast shields III or Repulsor shields III can be effective if you are able to take advantage of the recharging capabilities during a base incursion.
Trivia
It used to be the only ship able to mount two shield generators. This has changed drastically with the introduction of other, more powerful cruisers.
"Revelation" literally means "to reveal", similar to apocalypse. The Genesis, Exodus, and Revelation cruisers also share their names with books of the bible.
At one point, years ago, the Revelation cruiser was the most advance ship able to be built.
The Revelation cruiser used to be the strongest cruiser in the game until the introduction of blueprints, and with it, the Apocrypha cruiser.
Enhanced Revelation cruisers used to exist but were replaced, they featured extra mass, bonus armor and agility in combat.
Gallery