"

The Javelin Flagship uses cutting-edge wormhole technology to jump across a sector, bringing its escorts with it. Only alliance captains may launch it.

"



 

— In-Game Description 
General
The Javelin Flagship is a tier four, VEGA Corporation ship used for transportation. It can be used to ambush enemies with its jump drive and carry ally fleets to the battle.
There is no blueprint for this ship, but it was added in the Ship Lab. Researching requires the workshop IX.
Strategy
"

Prepare to meet the most powerful offensive weapon the galaxy has ever seen, Introducing the Javelin, a first of its kind flagship equipped with unprecedented jump hyperdrive technology, allowing sector warps for joint encounters across the galaxy. The Javelin can transport up to 4 individual fleets from any alliance member. Only alliance captains are equipped to pilot the Javelin, so choose wisely. The time to strike is now, technology doesn't get much more advanced than this.

"



 

— Sybil 
The Javelin flagship has a
Jump Drive
, allowing it to jump to any location in its current sector, albeit with a cooldown and charge up time.
Javelin flagships could bring at most four other fleets along with it in a jump. Fleets escorting the Javelin cannot be escorted by other fleets and the Javelin can only be escorted by alliance members. In the Devastation event, new jump drives were released.
A captain permit is needed to launch a Javelin flagship, an alliance of maximum size is limited to deploying 15 of these flagships at any given time. Javelin flagships are frequently seen delivering other fleets to attack VEGA, VSEC, Iron Star Company or Demon Corps fleet in supply runs.
While the Javelin jumpship offers nearly instantaneous transportation for groups of fleets, they are often not deployed in heavy combat where are dozens of fleets fighting across sector space since they are deemed too great of a liability to protect and defend.
Note that Javelins obtained through the Crafting system are initially empty, therefore the player must first equip a jump drive in order to be able to launch it.
Combat
Javelin flagships, especially MK I, are not combat ships. They are highly vulnerable due to their lack of range and firepower. They are extremely slow, have a large profile size, and are costly to repair when destroyed. If one uses a Javelin in combat, they will find out they fight like battleships, with two firing arcs on its sides.
Even at MK V, they should avoid combat if at all possible, though able to defend themselves marginally.
Fleets with a Javelin flagship cannot have a carrier as well, greatly inhibiting the fleet's range of engagement and capabilities. Enemy carriers can attack with impunity using their extensive range, and largely dictate how the battle will begin.
Do not use the Javelin flagship for basing, as it is definitely not worth the repair time. Although using them to deliver basing fleets to targets is ideal, same with using them to steal resources from a base.
The Javelin is the second slowest ship in the game.
Javelin flagships tend to be high priority targets due to their prominent signature in sector space as well as their hefty repair time. during wars between alliances, never leave your flagship unguarded and unattended outside in sector space, especially if your alliance is targeted by enemies.
Should your Javelin flagship be destroyed and you absolutely need it to transport ship, you can repair it to 10% health and deploy it for such use.
Javelin Flagship Prize box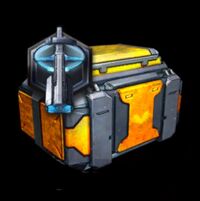 In recent events the Javelin Flagship is offered in a Strongbox version to then research and craft. Here is what the strongbox containes:
---
The Javelin Flagship Strongbox Contains:
1 Javelin Flagship Pattern
4 Flagship Cores
2,048 Flagship Armaments
5 Javelin Flagship Parts
---
Usage by VEGA
Although it isn't obvious, VSec was secretly utilizing the Javelin Flagship to transport their forces relatively quickly, enabling them to launch surprise attacks anywhere and anytime.
The secret was revealed during Zero Hour, and a few of the rebels destroyed enough VEGA Assassin event fleets was able to obtain the Javelin flagship.
Along with the update to the bridge and workshop, the ability to craft a Javelin flagship has been discovered, and more players are working towards obtaining the materials required for them to construct their very own Javelin.
In the Zero Hour event fleet (VEGA Assassin), the Javelin was armed with Gladius drivers, but was easily overwhelmed and destroyed.
Trivia
The Javelin flagship has the most points needed ever for an event ship being 5,000,000.
You cannot place a carrier and a flagship in the same fleet.
The Javelin flagship is one of only eight ships capable of obtaining three special slots, 5 being frigates, and the others being the Decimator Cutter and the Annihilator Battleship.
The Javelin flagship is now the second slowest ship in the game.
You can fit the Wormhole Drive Type-O on the Javelin Flagship(in the ship factory) even though you cannot find it anywhere.(Tip for people who crafted their Javelin Flagship and don't have a Wormhole Drive Type-E or Wormhole Blitz Drive.)
Gallery
Ad blocker interference detected!
Wikia is a free-to-use site that makes money from advertising. We have a modified experience for viewers using ad blockers

Wikia is not accessible if you've made further modifications. Remove the custom ad blocker rule(s) and the page will load as expected.