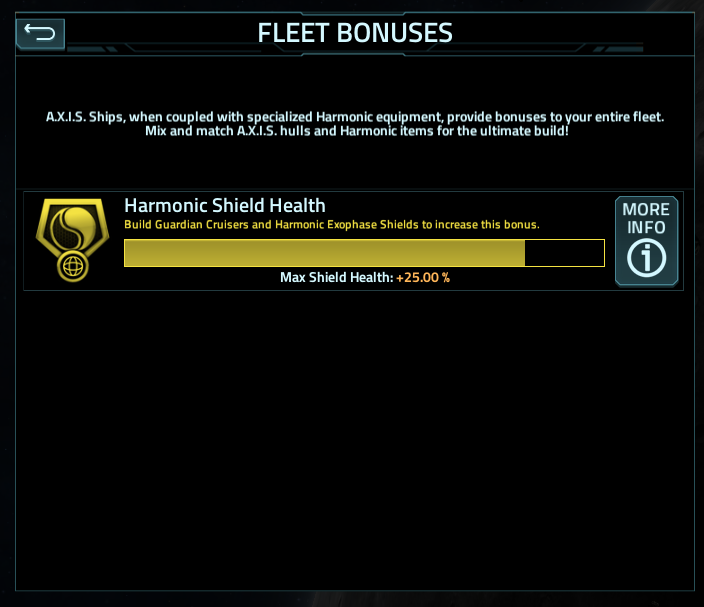 General
Harmonic Bonuses is a new feature introduced with the A.X.I.S. Division. Various A.X.I.S. technologies include a Harmonic component, which boosts certain stats across the whole fleet - even those of non-A.X.I.S. hulls. The more you choose to adopt A.X.I.S. harmonic technology, the greater the bonuses will be.
You can stack different types of Harmonic bonuses in the same fleet, enabling it to receive multiple buffs.
Harmonic Shield
Harmonic Shield increases the maximum shield health for all ships in the fleet.
Harmonic Shield Health
Bonus
+0.83% per point
Maximum Bonus
+30%
Maximum Points
36
Available Technologies

Guardian Cruiser (+3),
Harmonic Agility
Harmonic Agility increases the forward, strafe and rear speeds for all ships in the fleet.
Harmonic Warfare
Harmonic Warfare increases the damage dealt to all hulls.
Harmonic Siege
Harmonic Siege increases the damage dealt to all modules.
Gallery
Ad blocker interference detected!
Wikia is a free-to-use site that makes money from advertising. We have a modified experience for viewers using ad blockers

Wikia is not accessible if you've made further modifications. Remove the custom ad blocker rule(s) and the page will load as expected.